Winning Work from i2i – South African Cricket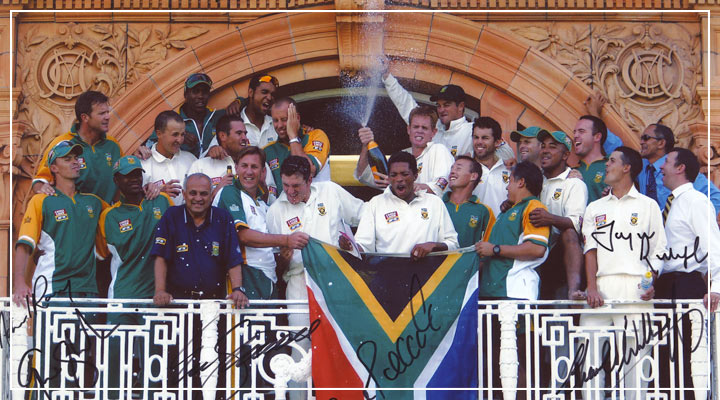 "You met a team that did not truly understand the power of the mind and the untapped potential that existed even within a group that the world would perceive as successful. Your simple and but powerful insights and teaching have opened up a whole new world of possibilities that so many of our squad had never seen or understood. The process that you started will grow and bear fruit but those insights and teachings at crucial times on our travels would make the journey that much faster and clearer."
What We Found:

The i2i Elite Sports Team were called by the South African cricket team, which led to i2i's Michael Finnigan meeting with Captain Graeme Smith, plus coaches Eric Simons and Corrie Van Zyl. They had left home labelled by the South African press as the worst team ever to set sail from their shores and early results on tour in England had destroyed whatever levels of confidence and self-belief were left.
The i2i team then spent as much of the summer as possible working closely with the South African cricket team. The players and the staff were preparing for a five match test series against England, a radical change in their mindset needed to be brought about… and quickly.
The team worked closely with Eric and Corrie to create a more positive environment. Regular sessions with the players focused on techniques to access and maintain the same positive environment on the field of play. These techniques were designed to help the players as individuals and the team as a whole.
The results were immediate and astonishing. The South African cricket team recorded their highest ever team score of 682 for 6 (31/07/03) and the highest individual score of 277 by Smith (24/07/03). This resulted in the highest number of away team players appearing on the Lords Honours Board (July 2003). Records fell all summer in terms of batting and bowling. Players became number one in the world and the team ended the season, second only to the all conquering Australians.
At the end of the summer when they returned home, it was to a heroes' welcome.
Newsletter
Sign up for the i2i Newsletter for inspirational stories and success tips.