Over the past few months, the i2i team have been all over the world working with some amazing clients. Our work contributes to the fantastic effort that these companies, teams or individuals have put in to becoming the absolute best. I'd just like to highlight few examples of our winning clients and how they went about succeeding.
The winning teams I'd like to tell you about are Wigan Warriors, Travel Counsellors, Darren Clarke and Helen Clitheroe. i2i have been a part of all these teams and their results speak for themselves!
Read more on what i2i and the winning teams have been doing plus find out how you could have the same.
Wigan Warriors
Firstly, congratulations to Wigan Warriors. What an awesome season so far! Currently, top of the Super League and on their way to their first Challenge Cup final since 2004. Next stop, Wembley. i2i's work with Wigan Warriors spans from the first team to their academy. It's about getting in the right mindset when you're working as a team. Wigan Warriors behave like a team, which is vital as rugby league is a team game. You wouldn't want an individual team member to let you down when you're body is on the line.
Travel Counsellors
Secondly, as summer is here, holidays are in full swing. Our friends, Travel Counsellors, have proved consistently that they are the Number One Customer Service organisation in the entire world. They are measured by a global rating system called NPS (Net Promoter Score) from Bain and Company in Boston. In 2010, they achieved the highest score for customer service in the world. i2i's work with Travel Counsellors has spanned over twelve years and their team is just incredible. They have discussed, listened, implemented and embraced many ideas to become a better business and their results speak for themselves. If you're thinking of booking a break, make sure you speak to these guys.
Darren Clarke
Thirdly, Darren Clarke is flying. What a guy! I have been personally working with Darren since April and it's always a pleasure. Darren and the team at ISM (International Sports Management) have embraced everything that we've discussed and what a way to prove it. Two tournament wins in 4 months for Darren, one being the greatest golf tournament in the world! It's clear to see that when you get the right people in the right place, add in a few techniques mixed with tremendous effort, you get results. You'll have seen Darren all over the papers and TV – what a winner. I mentioned how hard Darren works whilst I was being interviewed in the media about his win and I've got to say how much this is an understatement. He is a fabulous golfer, a great guy to be around and now an Open Champion.
Helen Clitheroe
And finally, i2i have just started work with Great Britain's Helen Clitheroe. Our Elite Sports Performance team have had the privilege of being involved with Helen's journey to the 2012 Olympics. Helen proves that if you want something, with all your heart and all your desire, then you can go and get it! On Saturday at Crystal Palace, Helen knocked 24 seconds off her personal best to give herself the best chance of selection for Team GB in 2012 and the World Championship Squad.
Team Work – Hard Work – Determination – Focus
i2i have many more winning clients which I'd love to tell you about. The four selected above all show similar qualities… winning qualities. These are team work, hard work, determination and focus.
Contact i2i Now!
We are very pleased to have played a role in every success we know about and we can help you do the same. Whether it's personal coaching or culture change in your organisation, i2i can help you achieve your dreams.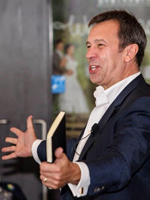 About The Author – Michael Finnigan
Michael Finnigan works with the world's most famous businesses, helping them to understand how to unleash the power lying dormant within their people. Michael consults with corporate, public sector and sporting clients all over the world to lead and deliver positive change.
Michael's work within elite sport includes clients in Premier League football, international cricket. He worked closely with Darren Clarke ahead of his victory at the Open Championship.
Newsletter
Sign up for the i2i Newsletter for inspirational stories and success tips.