At i2i, we work with sporting clients all over the world, helping them to understand the psychological strategies that lead to success. Working with a number of GB athletes ahead of this year's Olympic Games, we have seen firsthand the mental toughness, motivations, attitudes, and sacrifices that are imperative to attaining peak performance.
As we rapidly approach the busy summer months, it is important that we harness the power of sport and translate its messages into business. As the great Nelson Mandela said, "sport has the power to inspire…the power to unite people in a way that little else does." He should know, it united a nation under his leadership.
Togetherness

The summer of sport presents a great opportunity for Leaders to gather their teams together. Return to the vision, mission and values of the business and examine the motivations and attitudes of the team. Reaffirm the inspirational goals for the coming months before watching an England game or a key Olympic event as a team.
Inspired Teams
The great polar explorer Ernest Shackleton always strived to keep the morale of his crew high. Motivated people simply do perform better! By enabling people to watch the sporting events, you are showing your commitment to the team and placing a level of trust in them. This will remind them what a great business they are part of. Repayment of this trust will give you a clearer picture of your staff and your true team players.
Work Hard, Play Hard
Shackleton also believed in the importance of having fun. When work was done, he would encourage social time, flattening any perceived hierarchies along the way. This allowed the team to see him as a person, not just as 'the boss'. Then, when adversity struck, they summoned the togetherness, desire and will to prevail. During Euro 2012, many of the England games are in the evening. Suggest starting work earlier than normal, allowing more time to grab a bite to eat before watching the match together.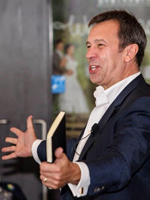 About The Author – Michael Finnigan
Michael Finnigan works with the world's most famous businesses, helping them to understand how to unleash the power lying dormant within their people. Michael consults with corporate, public sector and sporting clients all over the world to lead and deliver positive change.
Michael's work within elite sport includes clients in Premier League football, international cricket. He worked closely with Darren Clarke ahead of his victory at the Open Championship.
Newsletter
Sign up for the i2i Newsletter for inspirational stories and success tips.