Success – The Ultimate Question
WOW! What a few weeks we've had at i2i HQ. Meeting fantastic people, changing lives for the better, talking to newspapers, radio stations and TV shows, it's been AWESOME!
How have you been? Busy, on target and keeping your dreams alive? I hope so.
I've been doing exactly that and more. You may have seen me on Sky Sports News or BBC Breakfast – have a watch. It's great to have a team around you that know your dreams and all work in the same direction. Surrounding yourself with great people makes the journey so much better.
However, when times get busy, really busy, remember to do the basics. Stay focussed, keep your dreams alive and stay positive at all times. Keeping these going will allow you to stay on track to grow, develop and maintain success.
So, how do you measure success? What does success look like?
In business, success can be measured in various ways, one way is customer loyalty. Could this be the most important factor to success? Possibly?
Getting things right, consistently, by doing a great job for the people that love you and your product, time after time sounds like a successful company – doesn't it? Fred Reichheld asks one simple question, probably The Ultimate Question, for long term business success.
"On a scale of 1-10, how likely would you recommend us to a friend or family member?"
By asking this very clever, but simple question, you'll learn so much. Success is something that comes from hard work, consistency and staying true to your values. Keeping track of this can be measured by using Fred Reichheld's question.
The Ultimate Question generates your Net Promoter Score (NPS). Your score can be changed by anyone, at anytime, who answers your 'Ultimate Question' so maintaining success and achieving your required results, means you stay on track by knowing how you're doing.
This is great for business, it's an excellent measure. Measuring success is vital to growth and sustainability.
You can do the same, keep the basics going and keep your dreams alive by checking in with people around you that share your vision. Get friends and family to help, share the dream and make sure you are working towards it everyday.
Get in touch with i2i as we know what it takes to help people and businesses achieve their potential. Our success for individuals and organisations spans across the world. We know what it takes, so let's make your dreams come true.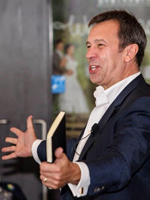 About The Author – Michael Finnigan
Michael Finnigan works with the world's most famous businesses, helping them to understand how to unleash the power lying dormant within their people. Michael consults with corporate, public sector and sporting clients all over the world to lead and deliver positive change.
Michael's work within elite sport includes clients in Premier League football, international cricket. He worked closely with Darren Clarke ahead of his victory at the Open Championship.
Newsletter
Sign up for the i2i Newsletter for inspirational stories and success tips.