Sanity Amidst Madness

This week, I started reading the autobiography 'So, Anyway' by John Cleese of Monty Python and Fawlty Towers fame.
To paraphrase one passage, he says that he thought that life was sanity interspersed with the odd bout of madness, and now believes it to be the exact opposite; madness with the odd bout of sanity.
A few years ago, my good friend, and loyal client, Gary Verity took over as CEO of Yorkshire Tourism. He interspersed our first meeting following his appointment with two bursts of madness; the first was that he was going to change his organisation's name to 'Welcome to Yorkshire', and the second was that they would one day host the Tour de France.
He has delivered them both; so my madness was his sanity.
What most people do not know is that throughout those years, Gary experienced more than his fair share of turbulence; personal tragedy, a bellyful of nay-sayers, cynicism, subversion, sabotage, and the overwhelming majority of policy makers, powerful leaders and influencers defying him and denying him at every turn.
Not once in all of those years did any of that madness sway him even one degree from his destination. Despite what he must have been feeling internally, Gary relentlessly remained 100% true to his cause.
He was the irresistible force all great achievement demands. He was also the immovable object, to stretch the analogy. He simply would not be denied, irrespective of the innumerable insurmountable objects placed in his path.
And so it was early on Saturday morning, 13th June 2015, in the midst of a bout of my own days of personal difficulty, that I awoke to the news that Gary's name was writ large in Her Majesty the Queen's Birthday Honours List; or should I say, Sir Gary.
It took my breath away; for quite a while, as I sat there contemplating the sheer magnitude of his achievement and the wholly appropriate and richly deserved nature of the award.
It literally brought a tear to my eye; more than one in fact.
It was now official, Gary Verity, Sir Gary Verity was officially what we always knew he was – a great Dad, a great husband, a great friend, a great leader, a great man, and a true knight of our realm.
So, congratulations, and thank you Sir Gary, for many years of fun and madness and, when I needed it most, some sanity and huge inspiration.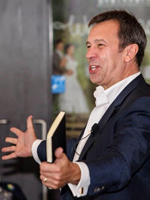 About The Author – Michael Finnigan
Michael Finnigan works with the world's most famous businesses, helping them to understand how to unleash the power lying dormant within their people. Michael consults with corporate, public sector and sporting clients all over the world to lead and deliver positive change.
Michael's work within elite sport includes clients in Premier League football, international cricket. He worked closely with Darren Clarke ahead of his victory at the Open Championship.
Newsletter
Sign up for the i2i Newsletter for inspirational stories and success tips.