Whenever i2i work with a business or individual, we ask 'What does The Best look like?' This got me thinking after a weekend of FA Cup games as Bolton head back to Wembley. It's their first time back since I worked with the Bolton Wanderers first team under Sam Allardyce. Congratulations Bolton.
Sam gathered a great team of 'winners' with the likes of Ivan Campo, Jay-Jay Okocha and the incredible Youri Djorkaeff. These experienced international footballers knew what it took to win. They were serious.
Read more about an incredible moment I saw with Youri Djorkaeff and the advertising signs at The Valley when Bolton played Charlton Athletic, learn more on how you go from being good to becoming great and how you raise your own game in all areas of life.
Youri Djorkaeff and The Advertising Boards
When Bolton Wanderers played Charlton Athletic in March 2002, I witnessed something that told me Youri Djorkaeff had raised his game to a whole new level. He'd never played at The Valley before, so he didn't know the ground, the pitch or any point of reference. As a World Cup winner and a European Champion, he knew what it took to be serious. While some of the players walked out onto the pitch reading the matchday programme and calling friends on their mobiles, Youri studied the stadium.
He looked out for markers, brightly coloured advertising signs, so he would know where he was on the pitch at any point. He was preparing mentally and physically for the game, for what movements would be needed when he'd have the ball. He'd know how far away the goal was, what space he had in front of him and where the nearest opponent would roughly be. This was preparation. Total preparation.
"Fail To Prepare, Prepare To Fail?" There was no chance of Youri failing. Bolton won 2-1 that day. Mr Djorkaeff scored both the goals!
What would he do nowadays? Most grounds have an electronic advertising perimeter so Youri wouldn't be able to get a marker off a memorable sign. I'm sure he'd use the stadium or something else but the one thing for sure would be that his preparation would be just as thorough.
Preparation
This is one of the strongest traits in winners. Preparation.
The great Jesse Owens said "In order to make dreams come into reality, it takes an awful lot of determination, dedication, self-discipline, & effort."
Preparation takes effort. Effort to do the smallest things that will have big rewards. Things you do when there is no-one else around, no-one else will see them, because if you really want it, then you will do it. That's preparation.
This is something I'd recommend for all areas in your life. If there's something you want, whatever it is, go get it. Do it with 100% effort, be determined, be strong and make it your dream. This will take you from being good to great. It's transferable to all elements of life. If it's at work, raise the bar of the team and those around you that want it as much as you will join. Remember Youri and his Bolton team mates. If it's outside of work, exactly the same applies, you set the standard, you raise your game and do it with 100% conviction. That's how you go from good to great.
Go and win!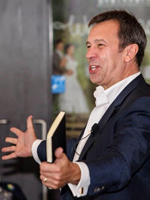 About The Author – Michael Finnigan
Michael Finnigan works with the world's most famous businesses, helping them to understand how to unleash the power lying dormant within their people. Michael consults with corporate, public sector and sporting clients all over the world to lead and deliver positive change.
Michael's work within elite sport includes clients in Premier League football, international cricket. He worked closely with Darren Clarke ahead of his victory at the Open Championship.
Newsletter
Sign up for the i2i Newsletter for inspirational stories and success tips.