With the clocks going back this weekend, we have another chance to live an hour of our life… again!
So, given the chance what would you like to do again? What dream slipped by? What would you have wished to have happened but you didn't make it come true?
I don't have a magic time machine to make all those regrets change but what I do know is that if you design your future exactly the way you want it to be and that if there is something in life that you want, really want, you should go and get it.
Over the years of working with businesses, individuals and teams, there's a common connection, why do their dreams become a reality and how did it happen?
The reason dreams happen and goals are achieved is due to vision. You've got to know what you want. It has to be focussed, clear and so powerful in your thoughts, that you think it's just going to come true.
Did you see the amazing skydive from Felix Baumgartner? He had a dream, aged 5, that one day he would parachute to Earth with his family were watching him. He drew a picture of it (aged 5!) with his vision.
As the clocks go back, this always reminds me of making the most out of any situation. Getting that 'extra' hour means we have another 4% of our day. So what are you spending 4% of your day doing, thinking and working towards?
Give yourself an hour (out of the 24 that are available each day!) to focus on your vision and this ultimately will help you get there. It's about knowing exactly what it is you want and staying focussed. There will be distractions, there will be hurdles, but that's the journey.
With the American Presidential elections in the news, I often think about the Declaration of Independence and the fabulous line "…Life, Liberty and the pursuit of Happiness." When this was drawn up in 1776, they knew that it was the journey that's the fun part, as the hard work and dedication make our goals so much more enjoyable when they are achieved.
Give yourself 4% of your day towards your vision. Just 1 hour! Make the most of 'gaining' this hour and use the knowledge of making your dream such a strong vision that one day it will become a reality.
i2i work with teams and individuals around the world on turning their dreams into a reality. With over 20 years of experience and results, we know what's required to help turn a vision into a reality. Contact us today and start making your dreams come true.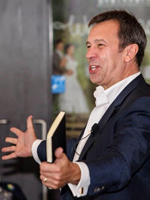 About The Author – Michael Finnigan
Michael Finnigan works with the world's most famous businesses, helping them to understand how to unleash the power lying dormant within their people. Michael consults with corporate, public sector and sporting clients all over the world to lead and deliver positive change.
Michael's work within elite sport includes clients in Premier League football, international cricket. He worked closely with Darren Clarke ahead of his victory at the Open Championship.
Newsletter
Sign up for the i2i Newsletter for inspirational stories and success tips.