Leadership Lessons from FIFA

Sometimes I hate modern football, so don't let the title of our blog today mislead you – this is not an article about the wonderful lessons to be learned from FIFA's monomaniacal (ex) leader Sepp Blatter!
No; it provides an interesting and somewhat scary example of how bad leaders can seize and expand power across an organisation which in turn 'infects' the organisational culture as a whole.
Blatter and FIFA is an extreme example of this but the point stays the same. How often does this kind of thing happen across organisations? Can you think of any examples? Harriet Green and Thomas Cook? Fred Goodwin and RBS?
At i2i, we deal a lot with cultures of organisations and identifying strategies to change the culture for the better. Step One of our five step cultural change cycle would be to clearly identify the Vision, Mission and Values of your organisation.
Questions you would ask yourselves are:
What is the essence of the organisation and the journey?
What values represent us?
What is the inspirational focus?
What is our Mission and Purpose?
How do you sum up our DNA in a sentence?
Under Blatter's leadership what do you think the mission and purpose of FIFA was?
According to the FIFA website their primary objective is "to improve the game of football constantly and promote it globally in the light of its unifying, educational, cultural and humanitarian values, particularly through youth and development programmes".
What complete rubbish! Who on earth came up with that? (And how much did it cost? And where did the money go?) You can't make this stuff up sometimes!
Again, this asks the question of how many people in the organisation truly buy-in to the vision, mission and values that you create? And are these VMV's appropriate and concise? If a majority do then you're onto a winner – trust me!
This is what makes the difference between a great organisation and a poor one.
What is clear from this FIFA farce is that the organisation needs a top to bottom revamp to rapidly move away from the authoritarian, corrupt, egotistical approach that Blatter and his leadership team brought.
Or…..if you think it's for you, you could forget all that and move to Switzerland!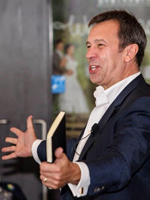 About The Author – Michael Finnigan
Michael Finnigan works with the world's most famous businesses, helping them to understand how to unleash the power lying dormant within their people. Michael consults with corporate, public sector and sporting clients all over the world to lead and deliver positive change.
Michael's work within elite sport includes clients in Premier League football, international cricket. He worked closely with Darren Clarke ahead of his victory at the Open Championship.
Newsletter
Sign up for the i2i Newsletter for inspirational stories and success tips.