i2i's Action Hero – Tracy Barnett

A number of years ago, I was delivering a project for a section of the Royal Mail sales team. The project itself was relatively large with approximately 500 delegates going through the programme.
One of the 500 delegates was a lady called Tracy Barnett. Tracy was (and still is!) a well-regarded business development manager tasked by the Royal Mail leadership team to generate more sales.
For anyone that has been through our 3 day high performance mindset programme you will know that we teach tools and techniques to enable people to achieve their dreams in all areas of life e.g. being a better parent, losing weight, running a marathon, generating more sales, leading your team etc.
After going through the course Tracy outlined her aspirations and developed a clear action plan to help her reach her long-term life ambitions. In this list of aspirations was starting a charity to help underprivileged children in The Gambia (as well as generating more sales for Royal Mail of course!).
So in 2011, Tracy and a small team of Trustees set up the charity BACE (Building and Assisting Communities with Education). BACE formed to help children in rural communities in The Gambia access education and health services. Their first project was later that year when BACE Volunteers and the local community of Bonsa built the Favour Preparatory Nursery School. Since then BACE has continued its fantastic work, most noticeably, by funding, building and running a Health Clinic which is now fully operational supporting a 20,000 strong catchment area!
Five years on the work of BACE has been recognised through the award of an MBE in the Queen's Birthday Honours to their Chair, Tracy Barnett. This is a fantastic recognition of the tireless work that she and the other Trustees and Volunteers continue to devote to the betterment of facilities in Gambia.
Visit http://www.bacecharity.org.uk/ to see more of their amazing work.
Tracy is a fantastic example of someone who TOOK ACTION to realise her dreams, and by doing so, positively impacted thousands of people around her. Tracy certainly didn't wait until the New Year to set goals.
If you are inspired by Tracy's story and want to see how you too can realise your own dreams then visit www.i2ihq.com/actionaugust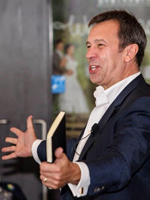 About The Author – Michael Finnigan
Michael Finnigan works with the world's most famous businesses, helping them to understand how to unleash the power lying dormant within their people. Michael consults with corporate, public sector and sporting clients all over the world to lead and deliver positive change.
Michael's work within elite sport includes clients in Premier League football, international cricket. He worked closely with Darren Clarke ahead of his victory at the Open Championship.
Newsletter
Sign up for the i2i Newsletter for inspirational stories and success tips.