i2i on Twitter

Follow i2i on Twitter for updates about all our work, open courses and #dailydendrite.
If you have been on one of the flagship i2i three day courses, you'll know about the great W. Clement Stone.
W. Clement Stone believed in 'mental vitamins' daily. These were positive 'things' such as stories, films, books, poems, basically anything that will help you achieve what you were after. Great stories of success, positivity that encourages results and thought provoking words that meant you were going to accomplish your dream.
Here at i2i we help with your vitamin intake with #dailydendrite on Twitter @i2iHQ.
You can also like i2i on Facebook at www.facebook.com/i2iHQ
If you've ever seen i2i CEO Michael Finnigan speak, you'll know that he has the most fantastic stories to hear about. Have you watched his TEDx speech?
Watch the TEDx speech and many other i2i favourite videos via the i2i YouTube channel at www.youtube.com/i2iHQ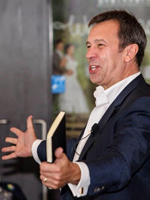 About The Author – Michael Finnigan
Michael Finnigan works with the world's most famous businesses, helping them to understand how to unleash the power lying dormant within their people. Michael consults with corporate, public sector and sporting clients all over the world to lead and deliver positive change.
Michael's work within elite sport includes clients in Premier League football, international cricket. He worked closely with Darren Clarke ahead of his victory at the Open Championship.
Newsletter
Sign up for the i2i Newsletter for inspirational stories and success tips.