How To Get The Best From Your People

Getting the best out of a team of people means getting the best out of the individuals that make up that team. i2i have been doing this for years and we know what it takes to help people perform at their very best. We call it The Success Blueprint and it tells you how to get the best from your people!
This can work in all shapes and sizes of business. Please get in touch if you'd like to know more about how we do this and how we can help your teams achieve their potential.
Here's what you do:
Create a Vision, Mission and Values for your business, so people can tell what exactly you are all about, where you are headed and whether they want to join in or not.
Create Behaviours to tell them how to treat each other and explain that adherence is essential and that disregard is terminal.
Motivated Minds only will do, so being only moderately 'up for it' won't do.
Assess Talent and match them to jobs so that you play to a person's strengths and they love their jobs and add huge value
Build a World Class Support Environment with momentum which at every turn reinforces your purpose and objectives
Let's look at five in detail, as there are ten parts to this:
Set clear Personal Goals which feed into the overall goal
Empower the person to achieve them
Supervise them as closely as they need
Coach them to enhance their performance
Mentor them so they can ask questions safely of a knowledgeable colleague
Measure their performance
Evaluate performance constantly (daily/weekly/monthly/quarterly/annually)
Incentivise and reward them handsomely when they do perform
Recognise success appropriately
Communicate constantly to reinforce all that you stand for and to tell people how you and they are doing
That's it. Easy as that. All there is. What are you waiting for? i2i would be very happy to help assist introducing this across your business so please get in touch if you need any help with leading that, following it, starting it or implementing it.
As you know, i2i can deliver a range of solutions that will help your teams to perform to their very best. The i2i flagship 3 day programme would be the key element to improving team belief and our track record in this is phenomenal. Read the i2i case studies to see where i2i have help transform teams into winning forces.
The rewards for those who can do this are great. All the best!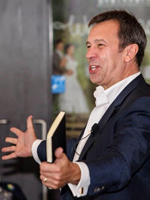 About The Author – Michael Finnigan
Michael Finnigan works with the world's most famous businesses, helping them to understand how to unleash the power lying dormant within their people. Michael consults with corporate, public sector and sporting clients all over the world to lead and deliver positive change.
Michael's work within elite sport includes clients in Premier League football, international cricket. He worked closely with Darren Clarke ahead of his victory at the Open Championship.
Newsletter
Sign up for the i2i Newsletter for inspirational stories and success tips.