Have you ever heard the phrase "Is your attitude worth catching?" What's the answer?
Sometimes it is, sometimes it isn't. Are you aware of these situations and do you know how to get back to your best? It's difficult but that's why i2i are here! We'll help you realise what's needed to be done.
Here's a hypothetical situation, you're in a sandwich shop and your served by someone with a bad attitude. They don't bother to say hello, they nod at you rather than asking what you'd like, they don't offer any suggestion towards your order, all in all, they basically don't care!
How does that make you feel? How could that affect your day?
What happens though when the role is reversed? Remember, attitude is infectious, so make yours worth catching. You have a direct affect on other people.
Tell someone right now how great they are. Tell them how special they are and thank them for doing something for you. Make sure you show them how much you appreciate them.
Remember how good it feels when you receive a 'thank you'? Remember how good you feel when someone praises your work? Here's the greatest, remember how good is it when someone tells you how special you are to them? You feel great!
Here's the magic bit, everyone involved feels great. Everyone has caught it! They feel great and you feel great. By expressing thanks and gratitude, you will feel awesome. It's a 'win win' situation.
You don't have to wait for this feeling, you can start right now. Let me know how you get on at making your attitude worth catching!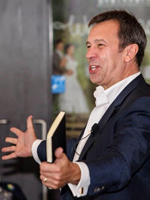 About The Author – Michael Finnigan
Michael Finnigan works with the world's most famous businesses, helping them to understand how to unleash the power lying dormant within their people. Michael consults with corporate, public sector and sporting clients all over the world to lead and deliver positive change.
Michael's work within elite sport includes clients in Premier League football, international cricket. He worked closely with Darren Clarke ahead of his victory at the Open Championship.
Newsletter
Sign up for the i2i Newsletter for inspirational stories and success tips.