Back in January, the i2i Newsletter talked about the right attitude for 2011. We had 1 year ahead, 365 days, 8760 hours, 525600 minutes which is simply 31,536,000 seconds! Plenty of time hey? Plenty of time to achieve that dream, plenty of time to change the direction of your life, plenty of time to make things happen. So how did you get on?
As it's nearly Christmas, I thought I'd give you an early present for next year. It's the same deal for 2012, you'll get the same amount of time and a little bit more (It's a leap year!) Rather than '5 Gold Rings' at Christmas, my gift to you is '5 Gold Things' to achieve those dreams in 2012.
The 1st 'Gold Thing' is Attitude!
"If you think you can or can't, you're probably right!" Having the correct attitude towards anything will make the difference. Looking back at 2011 with great happiness, one of our proudest moments at i2i was being part of Darren Clarke's win at The Open Championship. You'll have seen lots written about Darren's success and his journey to the 18th but that's not even half the story. It wasn't the golf Darren played that won him The Open, it was his attitude towards everything over those four days that made him one of a very special group.
The 2nd 'Gold Thing' is Dedication!
There are of lots of variations on the internet to a great story about a fabulous musician that finishes playing to a packed audience and receives a standing ovation. As the crowd leave the room, one of the audience goes to the stage to speak with the musician and cries "What a fabulous performance, how amazing, I'd give my life to play like that!" The musician was very thankful of such kind words and replied "Thank you, I did."
The 3rd 'Gold Thing' is Sacrifice!
The i2i team have worked with some awesome clients this year. From the world of business, sport and education. Achieving anything requires sacrifice, it's about the extra bit, that little bit more than your competitor, that little bit more each day to get to your goal quicker. This is highlighted in our work in schools with Young i2i. We ask a group of young people what's needed to get the exam results they want and sacrifice comes back every time as the top answer.
The 4th 'Gold Thing' is Focus!
What is it that you want? What is the 'IT'?? The 'it' is so important, because if you focus on exactly what you want, guess what? You might end up getting it. The i2i team have had another fantastic year with one of our loyal and excellent clients, Travel Counsellors. Their focus was to be the very best at customer service, and with our help and their hard work, they are now voted as one of the top companies IN THE WORLD when it comes to customer satisfaction. Awesome!
The 5th 'Gold Thing' is Belief!
Remember this, the great Walt Disney once said "Think, Believe, Dream, and Dare." What a fabulous quote and how true it is. If you believe in something, how unstoppable are you? You must believe in what you want to achieve for it to happen at all. Tom Young is part of our elite sport team here at i2i and he's been doing some fantastic work with Great Britain's Helen Clitheroe. Helen is the current European Indoor 3000m Champion and is really looking forward to London 2012. Her work with Tom this year has been a PB (Personal Best!) As you'll have read from Helen's i2i blog, she says "I'm always looking to do my best performance!" Keep an eye of in 2012 as Helen is going to run 'The Race Of Her Life' – go Helen!
So, my 5 Gold 'Things' to you are attitude, dedication, sacrifice, focus and belief. If you have these all correct, you're on your way to achieving your dreams. Enjoy the end of 2011 and look forward to 2012. Be careful what you wish for because it might just come true!
Merry Christmas and Happy New Year!!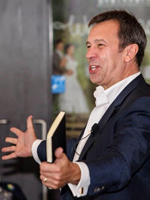 About The Author – Michael Finnigan
Michael Finnigan works with the world's most famous businesses, helping them to understand how to unleash the power lying dormant within their people. Michael consults with corporate, public sector and sporting clients all over the world to lead and deliver positive change.
Michael's work within elite sport includes clients in Premier League football, international cricket. He worked closely with Darren Clarke ahead of his victory at the Open Championship.
Newsletter
Sign up for the i2i Newsletter for inspirational stories and success tips.