Sorry Roy, no it wasn't 'unlucky' and yes, you did deserve it.
Why?
Well, let's take the first 72 minutes. How awesome were they? The team played really well, demonstrating that they believed they could create problems for their opponents, score, then win the game. They could have been three goals to the good by the time the goal actually came.
Well done. Superb.
Then came the goal, and that's when the problems started and were 100% self-inflicted.
On the very next possession, what can only be termed 'aimless possession of the ball' appeared out of nowhere, as if by magic, whistled up virtually instantly.
The confidence and poise of the previous 72 minutes, during which Russia were subjected to wave after wave of cavaliering, swashbuckling, relentless attack, dissipated the second the game restarted, to be replaced by confused, desperate, survival.
A very ordinary opponent was made to look 'better'.
The goal when it came had written all over it words like 'typical', 'inevitable', 'obvious', self-inflicted'.
Sadly the management, players and pundits substituted their own words, either due to lack of expertise, misguided loyalty, or simple 'denial'. Their words were 'unfortunate', 'lucky' (Russia), 'unlucky' (England), 'just one of those things'.
Best of all, on ITV, Lee Dixon, a former England and Arsenal defender of high quality, said before the game that the England team's defence was its weakness. The other pundits agreed. It was unanimous. Was I the only person then amazed to hear the same man say after the game that England's strategy to defend what they had was entirely right?
Sorry, did I miss something?
So, the whole sorry episode was a totally self-fulfilling prophecy.
The England team went from 'watch out we're coming' to 'uh oh now what?' in a minute.
It's actually, the good news, quite easy to fix. Next time Roy, DO replace Rooney with Wilshere – he hadn't heard you say 'defend' because he thinks he is dangerous and brilliant. Do NOT replace a fast, destructive runner (Sterling: yes, I know he has no idea what to do, but at least he tries) with a plodding defender (Milner: imagine the Russians saying 'Not Vardy, please! Oh, Milner … cool!). Next time, replace him with Vardy!
That's the 'you're in trouble now. I'm on!' Vardy.
Roy, if that is not a mind-set you possess or can adopt, then you'll find your time is up.
Just please stop insulting us with the 'unlucky' thing.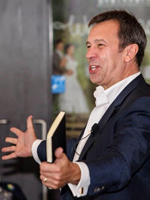 About The Author – Michael Finnigan
Michael Finnigan works with the world's most famous businesses, helping them to understand how to unleash the power lying dormant within their people. Michael consults with corporate, public sector and sporting clients all over the world to lead and deliver positive change.
Michael's work within elite sport includes clients in Premier League football, international cricket. He worked closely with Darren Clarke ahead of his victory at the Open Championship.
Newsletter
Sign up for the i2i Newsletter for inspirational stories and success tips.