Change in business needs to be done right to maintain momentum and keep teams motivated. We relocated the i2i office recently and we had a great day packing up our gear and moving to the new office. This event brought with it some interesting thinking. Such as what's going on the walls? What are we proud of to have displayed?
However, change doesn't have to be a physical move. It could be a change of strategy or simply a change in the way things are done. This brings with it some harder questions, especially for the team members. What is now expected of each member of staff? What new methods will they have to learn? What are we all aiming for?
Change is about attitude and understanding. For years, I've spoken with businesses, large and small, all over the world about their change and in particular "The Five Challenges Of Change."
i2i's Five Challenges Of Change help a business move from one place to another, with everyone's involvement. It's important that these steps are followed and implemented, but remember, change doesn't happen overnight.
i2i have been helping businesses change for years. Getting there means completing five challenges.
Challenge One
Define the reason for what you do, how you are going to do it and why you are going to do it. We call this "Vision, Mission, Values."
Challenge Two
How will your teams want to be treated? How will each member of staff understand everyone's involvement? This is the second challenge, as it is about "Behaviour."
Challenge Three
Getting teams motivated, passionate and engaged with the Vision, Mission and Values now must take place. This is about getting teams believing and 'fired up' with challenge three "Hearts and Minds."
Challenge Four
Do you have the right people in the right place? The fourth challenge of change is making sure your teams have what they will need to get where they need to be, we call this "Skills."
Challenge Five
Teams then need to be told how they are getting on, what's been happening across the business and how their hard work contributes to the big picture. At i2i, we call this "Momentum."
How i2i will help
Each challenge has to be executed correctly. i2i have been doing this for many years within businesses and the results have been outstanding. The change 'journey' needs to happen as you just can't introduce new ways of working and thoughts over night. Teams need to understand what they are doing, why they are doing and how they should do it.
When this happens you will know that you have "Everyone Giving Everything Everyday!"
Contact i2i today to see how we can help your business, teams and staff manage the challenge of change.
Learn more about Cultural Change in organisations – click here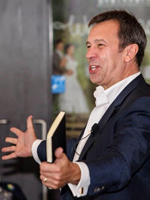 About The Author – Michael Finnigan
Michael Finnigan works with the world's most famous businesses, helping them to understand how to unleash the power lying dormant within their people. Michael consults with corporate, public sector and sporting clients all over the world to lead and deliver positive change.
Michael's work within elite sport includes clients in Premier League football, international cricket. He worked closely with Darren Clarke ahead of his victory at the Open Championship.
Newsletter
Sign up for the i2i Newsletter for inspirational stories and success tips.