Accentuate The Positive – Eliminate The Negative

Art Niemann, W Clement Stone's right hand man for so long, is now 84, but has been mentoring me for over 25% of his life and 40% of mine.
Nuggets like this one still fall out of his head every now and then, and when they do, we'll capture them for you to enjoy.
I suppose they won't keep coming forever, so we'll make the most of them while they do.
Have a great weekend,
Michael.
– – – – – – – – – – –
Dear Friends,
The other night while watching an old movie, a background song suddenly arrived. It was an old tune from 1945, written by Johnny Mercer. I realize many of you will not recognize the name, but he was a gifted song writer and singer.
Many of his songs are still popular today including Mandy, Skylark and some jazz songs. (Check out his bio for some interesting background)
My favorite and the song from the old movie is Ac-Cent-Tchu-Ate the Positive…written after the close of WW-II in 1945. Perfect timing as America had many challenges to conquer because of the war. The song proved to be a theme and inspired the people.
It was a favorite of Bob Hope and featured in some of his movies. The same for Bing Crosby and Hoagie Carmichael. It was #1 on the famous Hit Parade show and was recorded by most of the big bands.
We sure could use the concepts today as we struggle to keep America in the forefront of the world and set the humanitarian pace.
Here are the words and I ask that you share them with others…perfect timing:
You've got to accentuate the positive
Eliminate the negative
And latch on to the affirmative
Don't mess with Mister-In-Between
You've got to spread joy up to the maximum
Bring gloom down to the minimum
Have Faith or pandemonium's
Liable to walk upon the scene
To illustrate my last remark
Jonah in the whale, Noah in the ark
What did they do just when everything looked so dark?
Man, they said "we better accentuate the Positive
Eliminate the negative
And latch on to the affirmative"
Don't mess with Mister-In-Between…
No Don't mess with Mister-In-Between
The old is new…
Blessings,
Art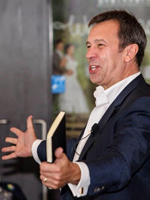 About The Author – Michael Finnigan
Michael Finnigan works with the world's most famous businesses, helping them to understand how to unleash the power lying dormant within their people. Michael consults with corporate, public sector and sporting clients all over the world to lead and deliver positive change.
Michael's work within elite sport includes clients in Premier League football, international cricket. He worked closely with Darren Clarke ahead of his victory at the Open Championship.
Newsletter
Sign up for the i2i Newsletter for inspirational stories and success tips.