40 by 40

My mate, Michael Taylor, just launched his book last Friday and he gave me a copy, signed of course.
To my relief and delight, but not surprise, it's an absolute belter, and I have instantly bought a fair number of copies for clients and friends I know will not be offended by its bawdy appearance which belies a deep and meaningful tale.
Michael is an inspirational part of my life; a friend and confidant, and fellow traveller on the at times lonely and painful road to success.
He is a character who brings warmth to your life is Michael, one of those people you are always pleased to see and even more pleased to be able to spend some time with.
How on earth he holds down his various jobs, leads a rewarding family life, runs for Parliament and writes a breathtakingly wonderful novel is beyond me.
He just goes to show that 'impossible is nothing' as Muhammad Ali once said in an Adidas advert; he is the embodiment of optimism, enterprise and achievement and a source of inspiration to those of us lucky enough to form the extended family that surrounds him.
If you're not easily offended, read his book, 40 by 40, and if you are, get over yourself and read his book, '40 by 40′.
It is a real tale of how 2008 came close to wrecking so many of our lives, telling it as I experienced and recall it; with cancelled bookings, and AAA clients going out of business; and a tale reminding those of us who did, how we survived and have even gone on to thrive since.
'40 by 40′ is essential reading for anyone in, formerly in or thinking of going in to business.
We need more Michael Taylors in this world; there just aren't enough.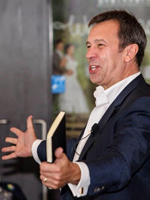 About The Author – Michael Finnigan
Michael Finnigan works with the world's most famous businesses, helping them to understand how to unleash the power lying dormant within their people. Michael consults with corporate, public sector and sporting clients all over the world to lead and deliver positive change.
Michael's work within elite sport includes clients in Premier League football, international cricket. He worked closely with Darren Clarke ahead of his victory at the Open Championship.
Newsletter
Sign up for the i2i Newsletter for inspirational stories and success tips.