The Early Days, by Michael Finnigan
"In November 1992, I put myself on a training course all about psychometric profiling.  I had looked at several options and decided that one I had come across by complete chance, in the offices of Karl Chapman at CRT, was the one for me.
£1,500 for a five day programme, so not cheap back then, and the best experience of my life.  I met and bonded with the programme leader, Art Niemann, and on that Friday afternoon around 4.15pm, my life changed forever.
Art had spoken all week about his friend, colleague and mentor, W Clement Stone, founder of AON, and told me how they had spoken about me and my profile as being ideal for a young apprentice (I was 31!) so would I like that young apprentice to be me?
Well, you bet I would!
My life changed that week and now, so would my career. I would cease being the banker I had trained to be and become a disciple of Mr Stone's teachings which had built AON into one of the world's largest insurance businesses.
The psychometric I also learned about that week was the brainchild of Walter Vernon Clarke, and the first of its kind, inspired by his friendships and professional relationship with William Moulton Marston, a Harvard professor and creator of the now well-known DISC language.  Clarke was the man who turned Marston's philosophy into as paper-based instrument for assessing likely behaviour.
'AVA', as Clarke's system is known, is a free response assessment assessing seven factors driving human behaviour from three perspectives, which we have used in all of our successful case studies since 1992.
We call it our Behavioural Fingerprint, because each assessment is unique based on as many as 315 different adjectives and statements which create literally trillions of potential reports.  Many such systems have only a handful of report options, resulting in people being put into a box; 'you're red', 'he's an INTJ'' you may have heard, but AVA respects and highlights the unique talents and gifts of each individual.
That said, you do need to be able to read English, which our first major sporting client, snooker star, Jimmy White, was unable to do at the time we met in 1998!  What a difficult thing that was for him to tell me so early in our relationship.
Jimmy had fallen on very hard times and called me having received a letter from a friend of mine following an article detailing his issues in a February 1998 edition of The Sunday Times.
Jimmy, however, studiously applied himself to our methodology and in March, thrashed World Number One, Stephen Hendry 10-4 in the World Championships at The Crucible Theatre, Sheffield to propel us to stardom.  Jimmy led that match 7-0 having lost 14 consecutive matches to Hendry in the previous 7 years.  He was quoted at 50-1 just to win the game!
Within weeks we were working in golf at the very highest level and in football too, and we had found our marketing angle to attract big corporate clients – we were winning with famous sportsmen!
The evidence that our methods worked was incontrovertible."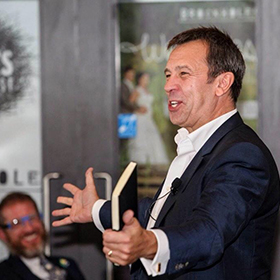 Our programme's successes are proven time after time and we'd love the opportunity to take your business to the highest level it can be, by teaching your people the key strategies to high performance thinking, behaviours and success.
Contact journey@i2iHQ.com with your enquiry and a member of the team will be in touch to discuss your needs and our solutions.