The i2i 10 Strategies Programme is now available for corporate customers to experience in digital form for the first time ever! Michael Finnigan teaches you 10 strategies to completely overhaul your mindset and performance from the comfort of your own desk..
Developed and presented by award-winning leadership and talent coach, Michael Finnigan. Michael works personally with the top executives and Directors of some of the biggest brands on the planet, as well as achieving unparalleled success with a selection of Europe's best loved sports personalities and teams. His pedigree is second-to-none.
This programme has been created by using 25 years of experience and proven success, and is inspired by strategies and science that began thousands of years ago.
This is your 10 step journey to real, sustainable improvement. It includes over 10 hours of thought provoking video, as well as a wealth of activities and information proven to achieve success.
---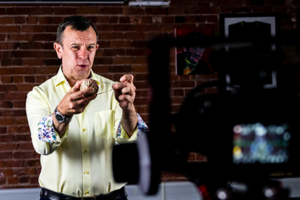 Who's it for?
Michael Finnigan works personally with CEOs, Directors and Heads of major organisations as well as elite sports stars. This is the first time in 25 years Michael has offered his teaching to a broader audience via an online programme. This programme is designed for managers and their teams to succeed and achieve. In truth, it is designed for anyone who wants to better themselves or their organisation.*
You can request more information about the digital programme by emailing Ross@i2iHQ.com and we will arrange for a member of our team to come and give you a personal run through of the programme.
*Please note the digital programme is available for teams of 100 people or more.
---
You can also take a look at our free sample section, which includes:
Video 1 – A more detailed introduction in to the programme and the history behind it.
Video 2 – A thought provoking and insightful activity taken from the first strategy module.
Video 3 – An incredibly inspirational story of a man who changed his life forever, as told by Michael Finnigan.
PLUS – An interactive activity linked to video 2.
---
Email Ross@i2iHQ.com for your personalised access code, then Click here to start your i2i journey and view the free sample module of the 10 Strategies Programme.