'Flow' Bryan Adams

I was extremely fortunate to be invited, on a beautiful Saturday in August, to Lytham Proms (the event owned by my friend Daniel Cuffe of Cuffe & Taylor).
The act was Bryan Adams.  Now, I've heard of him of course.  I could probably pick him out in an identity parade, an easy one that is.  I could even hum the tune to one of his songs (the one from the Robin Hood film).  But am I a fan?  No.  Did I think it would be good?  Well, I was going with great people (Seneca Partners), and I knew I'd have a great seat too (in a 'Champagne Pod'), unlikely to have any of that lovely 'cider' thrown at me, so I knew I'd have fun, but I didn't expect to see much of Bryan, or listen to him.
Blimey, was I wrong!
He was awesome, and I'd definitely go again.  I found I could actually hum bits of about ten songs too, which I had no idea were his!
Seriously brilliant.
The band was great.  He sang in tune, perfectly.  He sounded just like the records I didn't know I had heard.  He was funny.  He was humble. He interacted with the audience (not like that Van Morrison bloke, who made me feel like I was in between him and a 'skin full').
And, here's the point; he was loving it.
We had these great seats with a completely clear view of the stage.  At one point, near the end, he was playing this song, and I was sat down, just watching him, but really closely, studying him.
What I saw was true 'self-actualisation'.  Here was a person bang in his 'comfort zone', conveying exactly what that expression is intended to convey, 'Mastery' not 'Complacency' as many think.  I was seeing a person in 'Flow' as it is also known, where the challenge takes you to a place few people can reach and into a state of joy.
One of my hosts, Tim, saw me, and knowing me, realised what I was doing, so he came over to check.  He didn't need to ask what I was up to, so we just sat there and experienced it together.  We reflected after that we are both fortunate to have jobs which give us moments like that, and like Bryan, on a fairly regular basis.
That's what I want for my clients and my children too.
And I'll be going to see Bryan Adams again.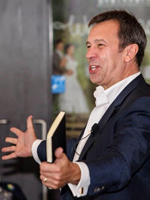 About The Author – Michael Finnigan
Michael Finnigan works with the world's most famous businesses, helping them to understand how to unleash the power lying dormant within their people. Michael consults with corporate, public sector and sporting clients all over the world to lead and deliver positive change.
Michael's work within elite sport includes clients in Premier League football, international cricket. He worked closely with Darren Clarke ahead of his victory at the Open Championship.
Newsletter
Sign up for the i2i Newsletter for inspirational stories and success tips.